Codeplex Club Site Starter Kit
The Codeplex Club Web Site in an open-source project that enhances the original Club starter kit. The project provides an extended architecture, improved Photo and Blogging components, and better administration options.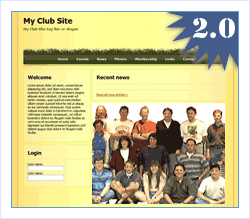 The Codeplex Club Site Starter Kit provides the following enhancements over the original Club Site Starter Kit:
A full Business Logic Layer
Poll Control
League Management
Rearchitected Forums
Better User Administration
Improved Photo System
Improved Blogging system

Member name from Membership Key
User's personal blog
The project makes use of the SubSonic toolset.