My Web Pages Starter Kit
The My Web Pages Starter Kit is a dynamic content management system (CMS). It is designed to meet the needs of computer enthusiasts who want to deploy and maintain their own website — and it is also easy to modify the look and feel or even extend the feature set.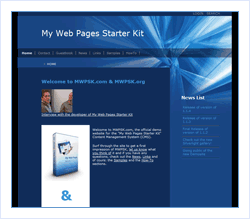 The My Web Pages Site Starter Kit provides the following features:
Dynamic Content Management System

Easy UI for everyday content management
Pre-built components: HTML, Events, Links, Guest Book, Contact Form, Downloads, RSS, Gallery
Easily configurable localizations

Prepared for localization right from the start. All required resources are to be found in just three files: one for the application and two for the manual.
ASP.NET 2.0 based

Themes, Masterpages, Data binding, Security, Navigation, Membership provider work as expected.
File based

No database is used to store data. All data is serialized into XML files within the "App_Data" folder. Of course do SQL Server databases offer great advantages, but we tried to focus on simplicity and decided to use a file based method to store the data.
Complete source code available

Permissive license and full source code offers flexibility to customize the kit to individual requirements
Runs in medium trust

No special privileges are required to run the kit in a hosted environment. Aligns with shared hosting environments.
Security model

Simple user management and access control is included (Custom ASP.NET 2.0 membership provider)